About Us
Consultancy
Application Forms
Download:
PLEASE JOIN THE CAMPAIGN TO HELP IMPROVE THE STANDARDS OF ALL TOILETS ACROSS IRELAND FOR BOTH OUR RESIDENTS AND OUR VISITORS.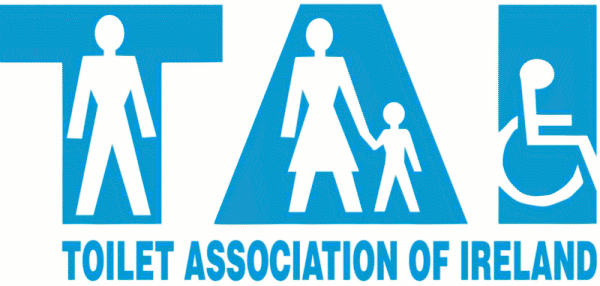 Why do we need more and better toilets?
There are an increasing number of specialist user groups, whose lives are affected by the state of Irelands's public toilets. These include people with mental or physical disabilities and their carers; the infirm or elderly; people with babies or young children and people of all ages who are coping with a range of medical conditions.
Ireland's population has an increasingly significant "ageing" profile
Residents travel more within the country, and the number of visitors to Ireland increases each year, placing added pressure on our existing toilet facilities
Public health and hygiene, as well as environmental issues, are constantly in the news, with increasing media interest in all matters relating to public toilets
Public toilets are the "shop window" for any area or establishment - where first and lasting impressions of levels of customer care are made
What are the Toilet Association of Ireland's Objectives?
The objectives of the Toilet Association listed below will be achieved through it's campaign activities which will be determined largely by the amount of income generated through membership subscriptions. The more Members willing to help fund the public toilet campaign, particularly Local Authority and Commercial company members, the greater the opportunities for the Association to influence standards and respond to members" needs.
To focus attention on issues relating to the provision of public or "away from home" toilets
To campaign for appropriate legislation relating to the provision of public toilets by Local Authorities
To campaign for high standards of public or "away from home" toilets in all areas, including municipal locations, health, education, transport, leisure, hospitality and retail premises.
To campaign for the provision of an adequate number of facilities for women, in relation to the number of facilities provided for men.
To campaign for adequate facilities for specialist user groups, such as wheelchair users, the elderly, babies and young children and people with medical conditions
To campaign for the provision of secure, fully attended public toilet facilities, with extended opening hours.
To campaign for the eradication of all types of social misuse and vandalism in public toilets
To provide a forum for public toilet providers, contractors, suppliers and users to share concerns and ideas and communicate best practices
To provide consultancy and information services to Association members on a range of relevant subjects
To establish links with similar Toilet Associations in other countries
News
Flushing Out
Ireland's Top Loos
Nominations and entries are now being received for the 2007 Loo of the Year Awards — the annual competition to find the best places 'to go' in the UK & Ireland.
The competition is celebrating it's 20th Anniversary this year.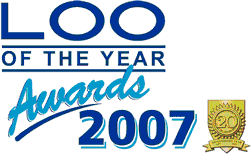 RING THE OFFICE NOW FOR A LOY APPLICATION FORM


Director's Review

We are set to raise the profile of "away from home" toilets a little further and, along with the annual Loo of the Year Awards, make progress towards encouraging higher standards of provision throughout Ireland.
CONTACT

RAYMOND MARTIN - Chief Executive

Mail Address:
Phone/Fax:
Email:

The Toilet Association of Ireland,

Enterprise House,
2-4 Balloo Ave,
Bangor,
Co.Down,
N.Ireland,

BT19 7QT.

Phone:
+44 (0)28 9147 7397
Fax:
+44 (0)28 9147 7397
Mobile:
+44 (0) 7799 881763

info@toiletsinireland.net